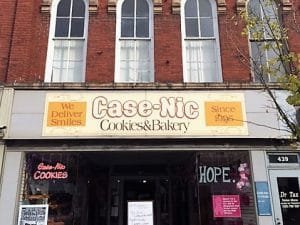 Welcome to Case-Nic Cookies!
Case-Nic Cookies, located in the historic Village of Medina, has been satisfying the indulgences of customers since 1995. We specialize in homemade cookies, brownies, sweet rolls, cheesecakes, pudding cakes, pies and cookie cakes. Cookie trays, baskets, gift boxes, bags and balloons for every occasion!
Do you love the taste of fresh, homemade cookies but don't have time or energy to bake? Are you looking for something different and unique for that "hard to buy for person" or special occasion?
Here's why we are so special!
We bake twelve varieties of fresh, from scratch cookies everyday:
Chocolate Chip, M&M, Snicker-doodle, Oatmeal,Oatmeal Raisin, Kiss,
Peanut Butter, Chocolate Peanut Butter Chip, Chocolate Chocolate Chip, Sugar, Peanut Butter Blast and Oatmeal Chocolate Chip with Whole Wheat Flour
We also have Carrot cookies, Ricotta cookies, Chocolate covered Peanut Butter Balls, Lemon or Raspberry Frosted cookies, Blarney Stones, Sour Cream Cookies and Oatmeal Cranberry with White Chocolate Chips cookies, Chocolate Mint Drizzles and Zucchini by order.
Want Dinner and Dessert all in one cookie? Try our "Janies"!!! A cookie made with Chicken, potatoes, peas, yogurt, juice and white chocolate chips!!! Pre-order only!
Cookie of the Month
We offer a new flavor for a month that available anytime or pre-ordered.
November featured cookie is Pumpkin Cookie with Cream Cheese Frosting, perfect for your holiday gatherings.
Cut-Outs
Hands down the best frosted Cut-outs are available every Wednesday or by order and during each Holiday season. Over 100 shapes to choose from (pre-order only).
No Bake (Gluten Free!)
Alternative to the standard cookie. We have 5 different kinds: Chunkee Monkee, Cinna-Monkee, Cocoa Monkee, Luv Monkee, and Cosmic Monkee.
Cookie Club
Be a member of our exclusive club! Buy 12 dozen cookies, get your 13th dozen free.* We keep your cookie card at the shop, you remind us you have one and we will punch it for each dozen you buy each time you come in.
*(Regular cookies are free dozen).
Place your orders for the upcoming Holiday Season
The last day to place orders for Christmas Cut-outs was December 7th. All other Christmas orders must be placed by December 22nd. For more information please click: 2017 Holiday Specials

Thank you for participating in "Frost Your Own Cookie Day"!
We are pleased to announce Case-Nic Cookies raised $465 during our annual "Frost Your Own Cookie Day" during Christmas in Medina November 25th. The $1.00 donation for every cookie will be donated to the Medina Food Pantry.
Medina Parade of Lights
Case-Nic Cookies was full of fun and laughs at this year's Medina Parade of Lights with Visions of Case-Nic Sweets Dancing in Their Heads.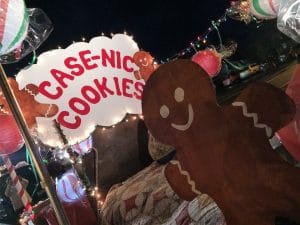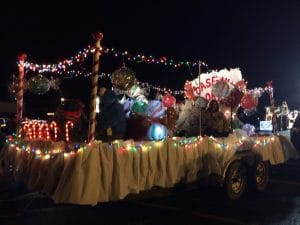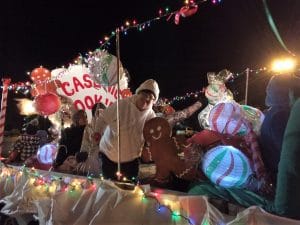 Congratulations Nicole Tuohey
Shop owner, Mary Lou's daughter Nic recently sold "Elephant Links". For every $1 donated, she tape together "links" and stretch them down Main St in Medina the night before the "Walk to End Alzheimer's" in Lewiston on October 14th. All of the money raise is donated directly to Alzheimer's to help with research and support for caretakers. This year, she raised $1,275 with an overall team total of $2,500. This was added to the $5,000 she already donated over the last 5 years.
She will continue to sell links in memory of of her Grandpa and Gramma Bradley until there is a cure for Alzheimer's Disease.
To donate to her Links, stop at Case-Nic Cookies or go online to my page at http://act.alz.org/goto/nicoleslinks.