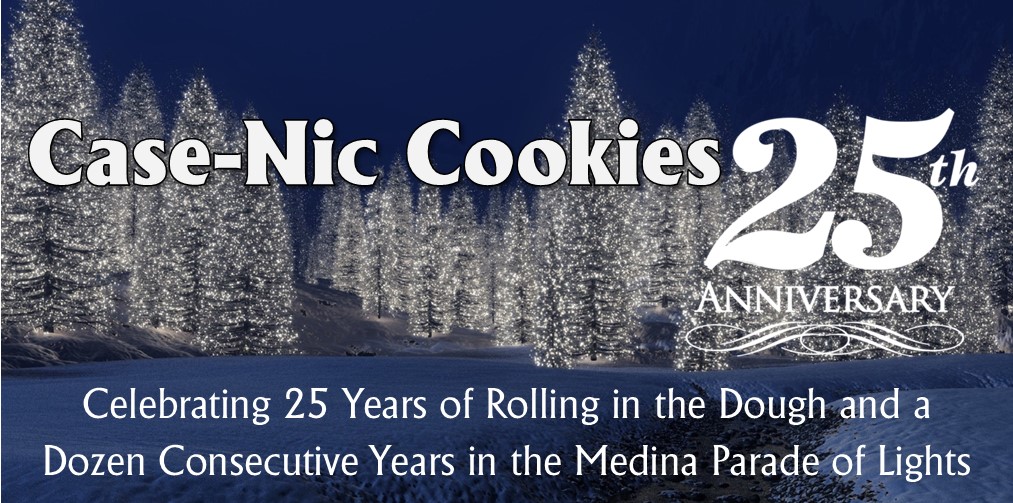 Case-Nic Cookies is now open Monday – Friday, 10-5 and Saturday, 9-1. If you would like place an order, you can call us at 585-798-1676 and leave a message, email: casenic@caseniccookies.com or Facebook Messenger on our Case-Nic Cookies facebook page. We are open to come into the store now. Masks are required! Local delivery is available. If you would like curbside delivery, please call us at 585-798-1676 when you arrive and we will bring your order out to you. Cash or Card accepted. Thank you for supporting small businesses during these uncertain times.
Welcome to Case-Nic Cookies!
Case-Nic Cookies, located in the historic Village of Medina, has been satisfying the indulgences of customers since 1995. We specialize in homemade cookies, brownies, sweet rolls, cheesecakes, pudding cakes, pies, cupcakes, cakes and cookie cakes. Cookie trays, baskets, gift boxes, bags and balloons for every occasion!
Do you love the taste of fresh, homemade cookies but don't have time or energy to bake? Are you looking for something different and unique for that "hard to buy for person" or special occasion?
Looking for that special gift?
Check out our holiday selection, but hurry- the last day for Christmas cut-outs is December 8th, all other holiday orders must be placed by December 21st.
2020 Holiday Specials
Here's why we are so special!
We bake twelve varieties of fresh, from scratch cookies everyday: $8.00/dozen
Chocolate Chip, M&M, Snickerdoodle, Oatmeal,Oatmeal Raisin, Kiss,
Peanut Butter, Chocolate Peanut Butter Chip, Chocolate Chocolate Chip, Sugar, Peanut Butter Blast and Oatmeal Chocolate Chip with Whole Wheat Flour
We also have Carrot cookies, Ricotta cookies, Chocolate covered Peanut Butter Balls, Lemon or Raspberry Frosted cookies, Blarney Stones, Sour Cream Cookies, Oatmeal Cranberry with White Chocolate Chips cookies, Chocolate Mint Drizzles, Punkindoodles, and Zucchini by order.
Want Dinner and Dessert all in one cookie? Try our "Janies"!!! A cookie made with Chicken, potatoes, peas, protein powder, juice and white chocolate chips!!! Inspired by my Mom, Jane, who had Alzheimer's Disease and wouldn't eat! She loved cookies and enjoyed these thoroughly!!! Pre-order only!
Cookie of the Month
We offer a flavor for a month that available anytime or pre-ordered. Chocolate covered Peanut Butter Balls will be December's special!!!
Cut-Outs
Hands down the best frosted Cut-outs are available every Wednesday or by order and during each Holiday season. Over 100 shapes to choose from (pre-order only). Check out our Frosted Cut-out Gallery. Cut-outs are $9.00-$13.00/dozen.
No Bake (Gluten Free!)
Alternative to the standard cookie. We have 5 different kinds: Chunkee Monkee, Cinna-Monkee, Cocoa Monkee, Luv Monkee, Cosmic Monkee and Chocolate Monkees.
Cookie Club
Be a member of our exclusive club! Buy 12 dozen cookies, get your 13th dozen free.* We keep your cookie card at the shop, you remind us you have one and we will punch it for each dozen you buy each time you come in.
*(Regular cookies are free dozen).