Need Ideas for a Birthday, Baby Shower, Bridal Shower,
Wedding or any kind of party you are having?
We can help you!!!
Cakes*
8×8  $13.99
(9 pieces)
1/4 sheet  $19.99
( 12 – 15 pieces)
1/2 sheet  $32.99
(24 – 35 pieces)
Full sheet    $56.99
(60 – 70 pieces)
Delightfully moist!
Choose from yellow, chocolate, carrot or raspberry. 
Buttercream, Chocolate, Raspberry or Cream Cheese frosting.  Personalized as you desire!!!
*All cakes come in a foil tin
Cupcakes
$7.59/dozen

Baked with love to enhance the sweet flavor.
Chocolate, Yellow, Carrot or Raspberry!!
One dozen per flavor for orders. Thank you!
Mini Cupcakes
 
$5.99/dozen
All the above flavors but just big enough to pop in your mouth…..
What about a Tear Apart Cupcake Cake?
No more cutting the cake, just grab and go.
Have an idea of what you would like?  Call us and we can work with you!!!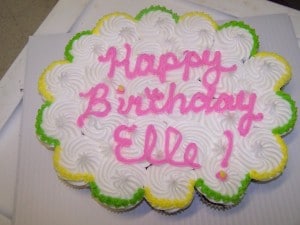 View some of our Cakes, Cupcakes and
Tear Apart Cupcake Cakes we've done!!!
Cakes and Cupcakes