Let's start with the basics.
Our Regular Cookies (available daily)
Don't forget to join our Cookie Club! (call for details 585.798.1676)
Snickerdoodle
Chocolate Chip
M&M
Oatmeal
Oatmeal Raisin
Oatmeal Chocolate Chip
Peanut Butter Kiss
Peanut Butter
Chocolate Peanut Butter Chip
Chocolate Chocolate Chip
Sugar
Peanut Butter Blast
$6.79/dozen
$4.99/half dozen
$0.99/each
Monkees (Cinna, Cocoa, Luv, Cosmic, Chocolate and Chunkee) Gluten Free
$9.99/dozen
$5.19/half dozen
$1.25/each
Then, it gets interesting (preorder only).
Specialty Cookies
Cut-outs
We bake them fresh every Wednesday or you can call ahead and we will do them any day you want them.
We also have "Seasonal" Cut-outs for every holiday as well as our "Sports" line (i.e. basketball, soccer, football, hockey, volleyball, baseball). We can customize a cookie for any occasion. Baby Showers, Bridal Showers, Thank You, Birthdays. Over 200 different shapes. For additional information please visit our Frosted Cut-Out Gallery. If we don't have your shape, bring in your cutter and we will see if we can do it for you!!
$7.19 – $9.99/dozen
$6.99/dozen unfrosted
Lemon Frosted
Raspberry Frosted
"Janies" (Dinner and dessert in one cookie)
Sour Cream with White Chocolate Chips
Chocolate Covered Peanut Butter Balls
Oatmeal Cranberry with White Chocolate Chips (OTC's)
Zucchini
Key Lime
Mint Drizzle
Blarney Stones
Tea Cakes
Carrot
$6.79/dozen (minimum order 6 cookies)
Brownies
Homemade brownies that are to die for. Plain, Chocolate Chip, Nut, Peanut Butter, M&M, Peanut Butter Chip, Butterscotch or Frosted
$7.19/dozen
$9.99/ 8×8 pan
$12.59 1/4 sheet
$24.99 1/2 sheet
Brownie Cups (chocolate brownies with peanut butter cup in middle) $11.99/dozen
Pudding Cakes
A rich, creamy combination of cream cheese, pudding and whipped topping
$12.99 – $27.99
Sweet Rolls
We believe these rolls are the sweetest around and we are certain you will agree!
$6.59/dozen
$5.29/tin of 9
$4.99/ half-dozen
Diabetic Cookies
Great tasting cookies without all of the sugar! (Made with Whey Low)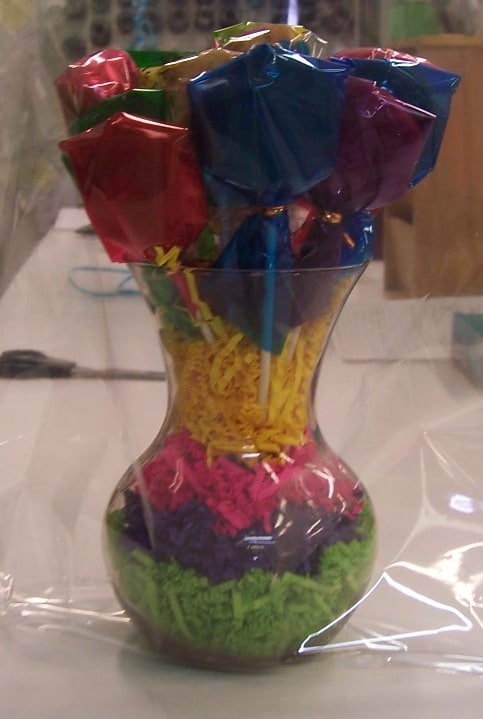 Chocolate Chip
Oatmeal
Oatmeal Raisin
Sugar
Peanut Butter
$6.99/dozen
Now offering a vase of diabetic cookies on a stick, 1 dozen for $24.99 plus tax
Gluten Free Cookies
Chocolate Chip
Oatmeal Raisin
Chocolate Chip with Raisins
Peanut Butter
Oatmeal
Brownies
Frosted Cut-outs (starting at $7.19/dozen)
$6.99/dozen
Cheesecakes
A wonderfully smooth and rich cake that will keep you coming back for more…and more…and more…..
$17.99/8 x 8 (9 pieces)
$21.99/¼ sheet (12 pieces)
$39.99/ ½ sheet (24-35 pieces)
Topping: Choose from raspberry, strawberry or cherry
8×8 $3.99 ¼ sheet $4.99 ½ sheet $7.99
Mini-Cheesecake Cups
The perfect size…not to big, not to small….but you can't eat just one… (must order in dozen quantities)
$8.49/dozen
Topping: Choose from Raspberry, Strawberry or Cherry $0.75/dozen
Cakes
Delightfully moist! Choose from Yellow, Chocolate, Carrot or Raspberry. Vanilla, chocolate, raspberry or cream cheese frosting. Personalized as you desire.
$14.99/8×8 (9 pieces)
$20.99/¼ sheet (12-15 pieces)
$34.99/½ sheet (24-35 pieces)
$59.99/Full sheet (48-70 pieces)
Cupcakes
Baked with love to enhance the sweet flavor. Choose from Yellow, Chocolate, Carrot or Raspberry. Vanilla, chocolate, raspberry or cream cheese frosting. (white frosting can be tinted) (must order in dozen quantities)
$8.29/dozen
Big Cupcake
$16.99 Great as a "smash cake"
Tear Apart Cupcakes Cakes
(total amount of dozen's plus $8 – $10 depending on design/decoration)
Gender Reveal Cupcakes
$8.99/dozen
Cup Cake Tier
$20.00 Rental
$5.00 Back When Returned
$75.00 If Not Returned
Miniature Cupcakes
$6.49/dozen
Miniature Cookies
Order ahead and we can make your favorite cookies in perfect bite-size pieces.
$6.49/dozen
Homemade Pies
Delicious anytime of the year. Choose from Apple, Red Raspberry, Cherry, Pumpkin, Blueberry, Lemon Meringue and Key Lime.
$13.99
Cream Pies
Chocolate Cream, Banana Cream, Coconut Cream, Peanut Butter
$12.99
Cookie Trays
Whether you need a tray for a meeting, party, sympathy or whatever occasion, we can put a tray together for you.
1 dozen regular assorted $8.99
2 dozen regular assorted $15.99
3 dozen regular assorted $25.99
4 dozen regular assorted $32.99
5 dozen regular assorted $39.99
6 dozen regular assorted $45.99
7 dozen regular assorted $52.99
8 dozen regular assorted $59.49
9 dozen regular assorted $66.99
10 dozen regular assorted $72.99
We can customize your tray with regular cookies, cut-outs and brownies. Call us for details.
Frozen Cookie Dough
Bake our delicious cookies at home. Eat them "hot" out of the oven. Perfect for fundraising. Call for details regarding fundraising!
$8.79/2 lb tub (24-32 cookies)